Wrap Works Uses Avery Gloss Silver Vehicle Wrap to Transform a GL63 AMG, Range Rover Autobiography and Cayenne Turbo S for Focus Group Testing
We were given the daunting task of wrapping three of the world's most expensive SUV's: A Range Rover Autobiography, Cayenne Turbo S and GL63 AMG. Don't believe us? Autobytel lists each of these vehicles as #1, #2, and #4 of top 10 most most expensive SUV's in the world. This is of course excluding unavailable anomalies such as the $295,000 Mercedes G65 and the $450,000+ (est.) G63 6×6. The Kicker? Everything had to be done THREE in days. Everything. Including door jambs. If you do the math, that's 15 doors and jambs (including the rear hatches) that need to be wrapped in addition to all remaining exterior surfaces of each of the three vehicles. We needed to remove all doors and door handles in order for the end results to be the cleanest car wraps possible.
The Wrap Works techs transformed these top-of the line SUVs for a focus group test that was held in Del Mar, California. Organizers wanted the cars to match the silver prototype SUV they were being compared to. After being transported from Beverly Hills to the Wrap Works' shop in Fullerton, our installers transformed each black SUV, down to the door jambs, with gloss silver vehicle wrap. The wraps were executed so perfectly, none of the focus group participants could tell the cars weren't fresh from the factory silver. After the focus group, the SUVs were transported to our shop in San Clemente for wrap removal.
Vehicles: Mercedes GL63 AMG, Range Rover Autobiography, Cayenne Turbo S
Original Color:  Black
Wrap Material Used:  Avery Gloss Silver
Technical Skill Level Required to Perform These Wraps: 10 [Door Jambs Included]
Mercedes-Benz GL63 AMG Vehicle Specs:
557 hp
0-100, 4.8 seconds
¼ mile, 13.2 seconds
$ 132,750 (MSRP)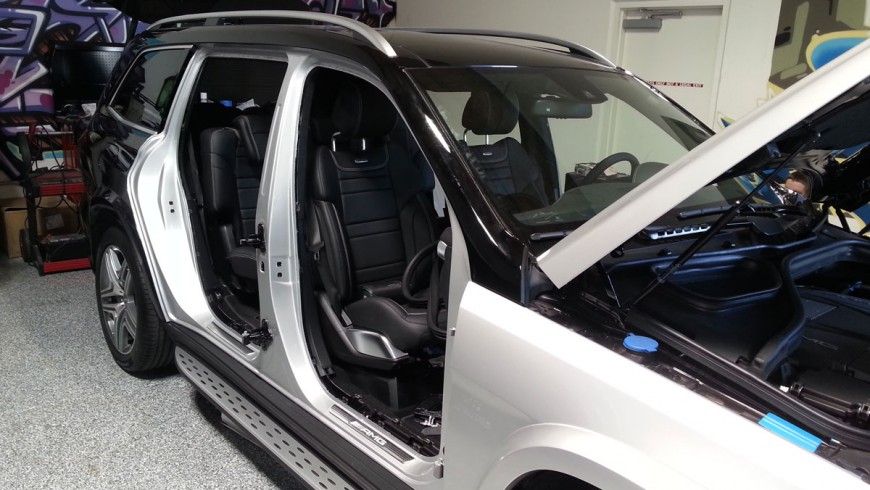 The Mercedes-Benz GL63 AMG "is built for those who crave performance, luxury, and exclusivity—you know; the finer things in life." – Car and Driver
Cayenne Turbo S Vehicle Specs:
550 hp
0-60 4.3 seconds
¼ mile, 13.5 seconds
$146,000 (MSRP)
The Porsche Cayenne Turbo S – "If SUVs are your thing, you'll love this one. If they're not, this might make you a believer. It's a hoot to drive.", writes writes Autoweek editor Wes Raynal editor Wes Raynal
Range Rover Autobiography Vehicle Specs:
510 hp
0-60, 7.1 seconds
¼ mile, 13.2 seconds
$135,996 (MSRP)
The Range Rover Autobiography – "It is more plush and larger than most starter homes, and it costs less than a comparably-equipped RV." – Will Randolph, Road and Track