Paint Protection Film Orange County
Paint protection film, also known as clear bra or PPF, is the most durable form of paint protection for almost any vehicle. Developed with self healing capabilities, rock chips and scratches virtually disappear when heat activated. It is an excellent investment for car owners that provides lasting protection for their supercar, exotic, race car, or everyday vehicle.
Available in both partial and full installs, paint protection film makes it easy to protect those high-traffic areas that need it most or to protect the entire vehicle from bug splatter, bird droppings, sun damage, scratches, rock chips and weather-related elements. At Wrap Works, we offer an array of paint protection film packages to ensure your vehicle is protected on your terms. PPF is available in both gloss and matte film finishes allowing you to style your ride giving it a high-gloss or sleek satin (matte) finish. With a high-gloss finish PPF you are able to enhance your vehicle's gloss and shine leaving it looking sleek, classy, and ready to rule the road.
High-quality paint protection film installed by certified paint protection film installers, like us here at Wrap Works, ensures you are getting the best car paint protection Orange County has to offer. Whether you are looking to protect your Tesla with paint protection film, your luxury vehicle, work truck, or even the family SUV, Wrap Works has you covered. Give us a call or fill out one of our quote forms. Protect your vehicle today!
Benefits of Paint Protection Film (PPF)
Superior Clarity
Outstanding Strength
Resists Yellowing, Bubbling & Staining
Partial / Full Wrap Available
Protects Against Rock Chips, Scratches & Weather Related-Elements
Cost-Effective
Great Warranty ( when installed by a certified professional)
Helps Maintain / Increase Vehicle Resale Value
Which is Better – PPF or a Ceramic Coating?
At Wrap Works, we understand that every ride is an extension of one's personality; therefore, preserving its aesthetics is our top priority. We've mastered the art of vehicle protection with two unparalleled solutions – Paint Protection Film (PPF) and Ceramic Coatings. Our high-quality PPF offers a robust shield, virtually invisible to the eye, delivering excellent defense against rock chips, road debris, and the elements. On the other hand, our Ceramic Coatings create an intense gloss finish, enhancing the car's beauty while providing impressive resistance against minor scratches, dirt, and water spots. Should you choose to combine PPF with a ceramic coating you're opting for a superior level of protection that is second to none when it comes to car paint protection.
Paint Protection Packages
Basic Package
Bumper | Mirrors
Protects the most susceptible front-end areas: partial hood, fender tips, front bumper, backs of painted mirrors
Computer-designed kits
Pre-cut to fit the year, make and model of your car, truck or SUV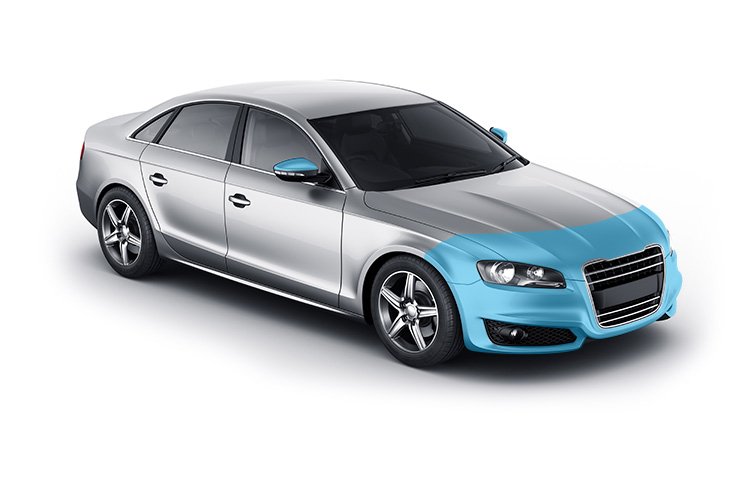 Standard Protection
Bumper | Hood | Mirrors
Full hood, full fender, front bumper, backs of painted mirrors
Especially popular for vehicles with sloped front ends
Most kits are computer-designed; some are custom-cut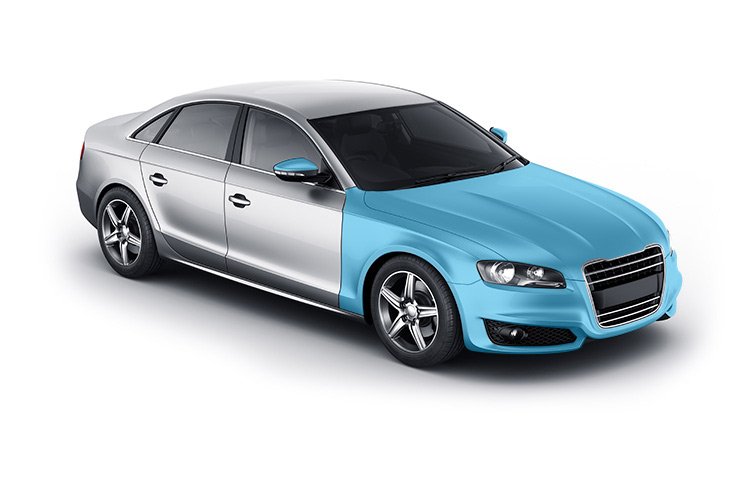 Ultimate Protection
Full Vehicle
Full hood, full fender, front bumper, backs of painted mirrors
Full doors, quarter panels, A-pillars and roof
Rear bumper, trunk and rocker panels
Most kits are computer-designed; some are custom-cut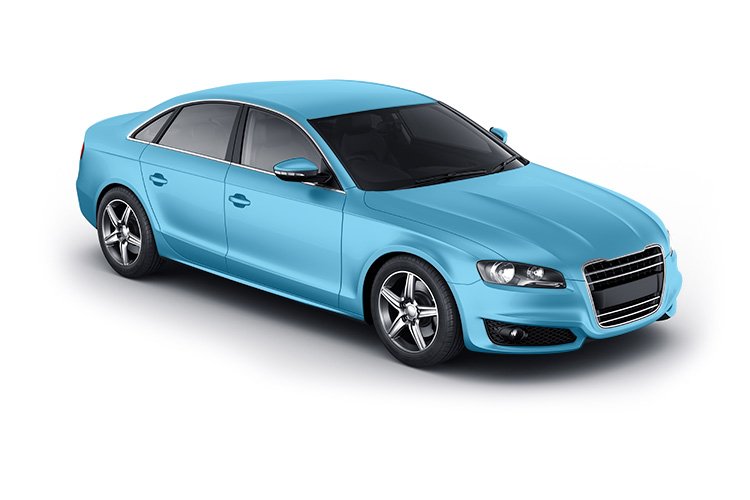 Extra Protection
Sills | Pillars | & More
Door edges
Door sills
Quarter panels
Rocker panels
A-pillars
Rear bumper
Wheel wells
Windshield header
Headlights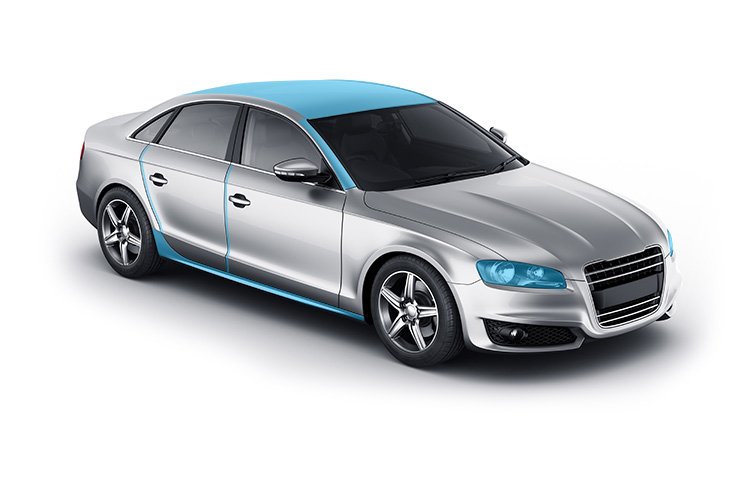 At Wrap Works Orange County, we use Avery Dennison's Nano-Fusion paint protection film. This advanced technology urethane film is infused with clear protection. It permeates the material, eliminating the need for a topcoat. This breakthrough technology creates a PPF that weathers elements better and won't crack or peel under tough road conditions.
Our professional PPF installers apply a custom-designed clear bra to your vehicle. Wrap Works has an in-house computer and cutting system that can create a Paint Protection kit or we can custom hand-cut a kit to fit your vehicle. We have highly skilled technicians on staff that can create a handcrafted clear bra for the most complex vehicles on the road.
Smooth Nano-Fusion Paint Protection Film fits snugly on the vehicle's contours allowing our techs to provide the best install possible. It's more flexible than average paint protection film and expands for sleek finishing on any vehicle. Installation can take anywhere from a few hours to a couple of days depending on how much of the vehicle is being protected.
Call us at 855-999-9727 for a free estimate. We provide the best paint protection film and installation for vehicle owners in Orange County and throughout Southern California.
Paint Protection Film FAQs
Paint protection film (PPF) also known as clear bra is a thin sheet of invisible urethane film that when applied to your vehicle adds an extra layer of protection. Self-healing capabilities allow scratches, dings, rock chips, and more to virtually disappear, making it seem as if they were never there. Available in full and partial installations, PPF helps to increase vehicle resale value when installed by a certified paint protection film expert.
When a high-quality PPF film is applied to your vehicle by a certified clear bra installer you not only gain ease of vehicle maintenance, meaning bug spatter, dirt, and debris, and more easily wipes off leaving your car, truck or SUV looking it's very best. Superior clarity, increased resale value, and protection from rock chips, road debris, and weather-related elements mean your vehicle is left scratch, chip and ding free!
Not all paint protection film is created equal. When a high-quality film from a reputable manufacturer is installed by a certified paint protection expert you get a film that will last for years to come if taken care of properly. And most high-quality clear bra films are backed by a manufacturer warranty to help ensure film quality. It is also important to remember that the life span of any paint protection film also greatly depends on the quality of installation. Utilizing the services of a qualified clear bra professional greatly helps to ensure the overall life of your film.